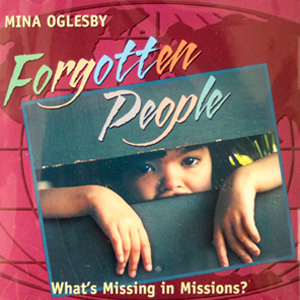 Forgotten People- What's Missing in Missions?
Mina will revive your heart to see those lost and dying around you and to tell them of Christ.
CD: $14.95
1. What Then?

2. And Then Eternity

3. Sowing in the Master's Field

4. Speak, My Lord

5. Why Are Your Eyes So Dry?

6. Ezekiel's Boneyard

7. Forgotten People

8. I'll Wish I Had Given Him More

9. Will You Go?

10. The Man That Is Blessed

11. Your Mission

12. Must I Go And Empty-Handed?