News from Mina Oglesby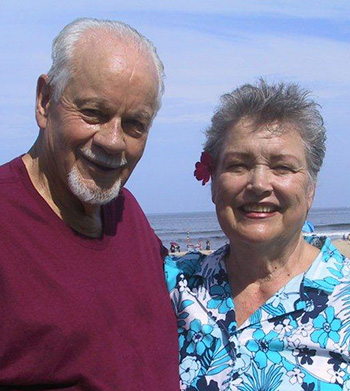 August 15, 2017
Dear Friends,
Summer is here in Florida!! Boy, one can walk out of the house and the heat from the sun almost takes one's breath away!! BUT thank the Lord for air conditioning!! Many folks complain about the Florida heat, but personally, I find it refreshing!! I know there will eventually be cooler weather and here in the Sunshine State the sun shines almost every day!! Fluffy cumulus clouds and brilliant blue sky give us some of the most beautiful vistas in our nation!! We are thankful to be here at Maranatha Village...enjoying so many new friends and adventures!
We've had a few times of ministry this summer—the latest in St. Petersburg...and have several trips scheduled to begin next month...always excited about ministry!! I've had the opportunity to sing in our local church a number of times lately and always enjoy that. Our pastor has asked me to pray about teaching a ladies' Sunday school class beginning in October—it has been years since ladies here have had one...it's a big step but very inviting!
Eddie's health has been very stable since his meds were last adjusted several months ago...so I try to be very careful since I am "in charge" of all his meds...amazing what just the right medicine in the correct dose can do!!
Far Above Rubies
is right around the corner and there is a lot of interest being expressed...can't wait to see everyone!! Hoping to get together with a number of beloved old friends while we are in the Chattanooga area...sure miss those folks!!
We have a trip to Sicily planned for October 9-23 to see our First Perfect Granddaughter (Charlie) her hubby (Greg) and those two precious little GREAT grands!! Genevieve just turned 5 August 4, and Roman is a year and a half and we have never seen him (or held him!!) Can't wait!!!!!!!
Pray for us as we serve the dear Lord here, and in the places He assigns us the rest of this year! Love to each of you and prayers that you (and we) will continue to walk with the Lord!!
Eddie & Mina
How to Schedule Mina at your Church or Event 1.

Check the

Itinerary 2.

Contact Us:

Email Mina

Please let us know the dates and the venue.

We look forward to hearing from you.

F.A.R. Retreat

The FAR Retreat is held at the beautiful Cedine Conference Center right on Watts Bar Lake in Spring City, TN. Imagine sitting in one of the many rockers on the covered porch that look out over the lake. On Friday evening, there is a share-sing-praise-prayer time around the campfire led by Tracy Coats.

Read more