News from Mina Oglesby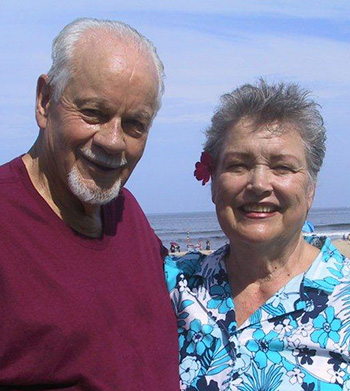 April 2017
Hi Dear Friends:
Spring at Maranatha Village in Florida!! Never did we dream it would be so beautiful here...the weather, water, vegetation, the sky, the clouds, the various palm trees and shrubs, the flowers we have planted—all beautiful!! We are so thankful to the LORD for bringing us here and allowing us all this by His grace!!
Our son, Matthew, whom we haven't seen in over four years, is visiting nearby in the States for at least a month, and we are in daily contact with him...he spent four days with us—a blessing—and will be back as his work allows.
We are recuperated as much as we will be (I think) from the car accident on Halloween...another blessing of restoration from the Lord!
Having several meetings this spring has kept us busy, and we look forward to a trip on the 20th to one of our "old favorites"—GRIBT in Johnston, Rhode Island. Several more meetings come after that, finishing up with the weekend after Mother's Day in Dothan, AL...(
Check our itinerary
and come see us!!)
Don't miss out on the
extended "Christmas" sale
of CD's and songbooks: Any 3 CD's for $20 plus shipping, and songbooks ONE dollar each plus shipping!!
My Sweetheart spent 6 days in the hospital in Lake Placid, FL, but is doing better and back home as of yesterday afternoon. God is good to us!! We appreciate all your prayers and love...hope to see you or hear from you along the trail!!
Blessings and Love,
Eddie & Mina
How to Schedule Mina at your Church or Event 1.

Check the

Itinerary 2.

Contact Us:

Email Mina

Please let us know the dates and the venue.

We look forward to hearing from you.

F.A.R. Retreat

The FAR Retreat is held at the beautiful Cedine Conference Center right on Watts Bar Lake in Spring City, TN. Imagine sitting in one of the many rockers on the covered porch that look out over the lake. On Friday evening, there is a share-sing-praise-prayer time around the campfire led by Tracy Coats.

Read more