News from Mina Oglesby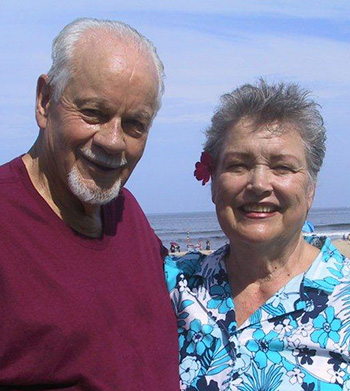 October 9, 2017
Dear Friends and Family,
Home for another day and then off to our wonderful adventure to Sicily!! In addition to the visit with our precious Charlie, Greg, Genevieve, and Roman (in the White House!!) Military missionary Al Hamilton has invited us to minister on that first Sunday in country...Oct. 15. Sure hope I am over jet lag by then!!
The summer flew by! Somehow I didn't get to do all I had planned out in the yard, etc...THEN came Irma!! What a scary time that was...we stayed in our little house and felt it should be safe unless we got a direct hit...concrete block walls, specially-fastened steel roof, and new windows that are supposed to withstand 130 mph winds...oh, that wind!! We have huge old live oak trees all over our Maranatha Village, and they were whipping around like willows!! We lost power for a week, but a very kind neighbor ran an extension cord from his large generator (two houses away) to keep our fridge and freezer running! The Lord was so good to all of us here in the Village, although the mobile home section was affected much more than our section...lots of carports and porches off, sheds turned over, trees down or broken off, sheet metal in many yards...such a lot of clean up, but our guys have been busy and it is coming along. We are thankful that the Lord spared us this time.
Our ministry this fall has been wonderful!! Bible Baptist Church in Creedmoor, NC, is always a treat!! Then on to Tennessee for our annual FAR ABOVE RUBIES genuine retreat for ladies!! This was our 20th year and you should see the video Irene Getz from Ewell Bible Baptist Church in Ozark, AL, put together! 20 years of memories! 20 years of watching my very dark hair turn gray!! Seeing our special speakers through the years!! Sweet faces and sweeter memories of gals who have attended year after year!! Remembering the Lord's blessings all these years...and MORE to come, Lord willing!!
Tomorrow will be my first time to teach in our new ladies' Sunday school class, "Loving E.W.E.S. (Every Woman Encouraging Someone) and I am really excited about it!! Studying Judges and Ruth in a collection of lessons called "Failing People, Faithful God." Frankly, I want to spend more time on the latter instead of the former!!
My Sweetheart has done so well the past few months...he even put up with my driving 13 1/2 hours on Monday to get home!! I said, "Honey, you can lay back and go to sleep if you can," and he said, "No, I need to stay awake for YOU!" (Could he have been saying, "To see that YOU stay awake???!!) We are both looking forward to getting some good rest and visiting with our Sicily family!!
Please pray for us as you think of us...we return from Sicily on October 26 and leave for our annual trek to Pensacola (PCC) on October 29...home two days from that trip and then to Jacksonville to our dear friends, Ralph and Cathy Flowers, at the Regency Baptist Temple for our last meeting of this year. They are celebrating "Old Fashioned Sunday"---wonder why they invited US????
All His rich blessings to you and your family as we enter the hectic, and yet wondrous, holiday season!! Hope that we get to see you or hear from you somewhere along the trail!!
Love and prayers,
Eddie & Mina
How to Schedule Mina at your Church or Event 1.

Check the

Itinerary 2.

Contact Us:

Email Mina

Please let us know the dates and the venue.

We look forward to hearing from you.

F.A.R. Retreat

The FAR Retreat is held at the beautiful Cedine Conference Center right on Watts Bar Lake in Spring City, TN. Imagine sitting in one of the many rockers on the covered porch that look out over the lake. On Friday evening, there is a share-sing-praise-prayer time around the campfire led by Tracy Coats.

Read more