News from Mina Oglesby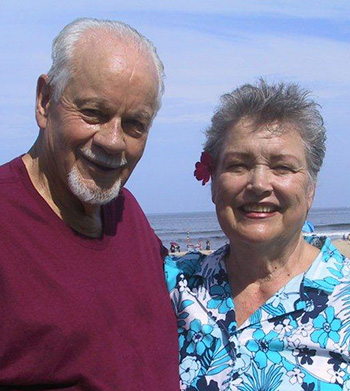 January, 2020
Hi there, everyone!!
OK, so yes, it's January 24 and I JUST took down my Christmas tree and "stuff!" I think I would leave it up all year but Eddie is adamant!! I do love everything about the Christmas season...just seems there is never enough time to do all I want to do for folks.
Not much news here—remember, we live in a retirement community! (But most of us are NOT retired!!) We have several meetings coming up and are excited about them! (Check out our itinerary) The weather is gorgeous here...our hibiscus (red) started blooming two days ago...and the new tree we had planted last year is blooming—it is a Tabebuia tree with lovely pink trumpet blossoms (to match our lovely pink house!!) The purple fountain grass around our palm tree is showing off and the peace lilies and corn plant are lovely!
Can't tell you how much I am enjoying teaching the Ladies' Sunday School class at church! We had 67 ladies Sunday morning and I expect a few more to filter in. Just started a new study...RBP's "Pearls from Proverbs." Lots of Scripture and the ladies love to enter in and participate!
My Sweetheart is doing great—had a tough August but our great Dr. Ashby here in Sebring has been able to once again regulate E's meds to allow him to function and enjoy his life. How thankful we are for him!!
Maestro (our red-factor canary) seems so happy every day--he sings and adds a lot to our morning devotions...our chairs are near his cage! I just know he is praising the LORD when he goes into one of his prolonged trills :-))
We were in Chattanooga a couple of weeks ago for our annual planning meeting for our FAR retreat—October 1-3 this year. Ten ladies brought some productive ideas to the table..AND we had a lot of just plain old fun too! Our speaker this year will be Debi Pryde again...she always does just a tremendous job! Our theme is
"I. Will. Praise. Him." Don't you love it???
Trust that your remaining winter will be a time of resting and preparing for a glorious springtime! Let us know if we can serve you in any way—we hope to see you "somewhere along the trail!"
Love and Prayers,
Brother Ed & Mina
How to Schedule Mina at your Church or Event 1.

Check the

Itinerary 2.

Contact Us:

Email Mina

Please let us know the dates and the venue.

We look forward to hearing from you.

F.A.R. Retreat

The FAR Retreat is held at the beautiful Cedine Conference Center right on Watts Bar Lake in Spring City, TN. Imagine sitting in one of the many rockers on the covered porch that look out over the lake. On Friday evening, there is a share-sing-praise-prayer time around the campfire led by Tracy Coats.

Read more