News from Mina Oglesby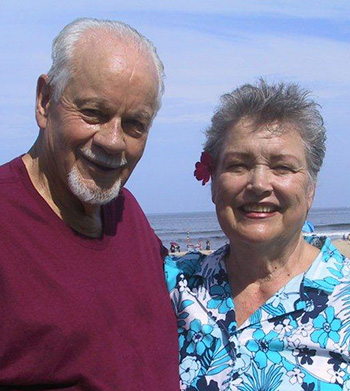 January 26, 2018
Dear Friends:
What an exciting year it has been for us here at Maranatha Village! Getting acclimated to our new community...making many new friends...entertaining regularly...going through hurricane Irma!! (Now THAT was interesting!!) Having experienced a number of tornadoes growing up in Kansas (which have a relatively short duration, however destructive!) I was not prepared for the length and ferocity of Irma. Eddie and I weathered it right here in our cement block house and suffered no damage, thankfully. I must say, however, when the electricity went off for 8 days, it was a little scary with all that wind and not being able to see what was happening to all the huge trees around us, etc. The Lord was very good to us, as always, and brought us through it THIS TIME!
Several months ago, our pastor asked me to pray about starting a ladies' Sunday school class. Previously everyone met in the auditorium for a combined Sunday School, and it had been many years since a ladies' class was held. Our first class was about 4 months ago, and we had 49 in attendance last Sunday! The ladies seem excited and I am LOVING it!! A number of our ladies are still in the auditorium and some prefer a "man" teacher, but the ladies who do come are faithful and attentive...I do praise the LORD for this opportunity to teach on a regular basis. We are doing a study this quarter titled, "THRIVING in Stressful Times." My Sweetheart is doing super well and we are enjoying this slower pace of life. Always busy, we still have time to "smell the roses" along the way. It is so enjoyable to meet new friends moving into the Village, and get better acquainted with the ones already here.
Our 16-day trip to Sicily went beautifully! We had such a great time with Charlie, Greg, Genevieve, and dear little Roman (who just turned 2 on Saturday!) They treated us like royalty! We got to do so many special things, eat delicious food, sightsee, and just plain enjoy those two lovely Great-Grandchildren!! Greg and Charlie are precious Christians, love the LORD, and are wonderful parents. It was a blessing to be in their home!!
We are looking forward to the meetings the Lord has given us this year and hope to see YOU somewhere along the trail!!
Serving Him Together!!
Eddie & Mina
How to Schedule Mina at your Church or Event 1.

Check the

Itinerary 2.

Contact Us:

Email Mina

Please let us know the dates and the venue.

We look forward to hearing from you.

F.A.R. Retreat

The FAR Retreat is held at the beautiful Cedine Conference Center right on Watts Bar Lake in Spring City, TN. Imagine sitting in one of the many rockers on the covered porch that look out over the lake. On Friday evening, there is a share-sing-praise-prayer time around the campfire led by Tracy Coats.

Read more