News from Mina Oglesby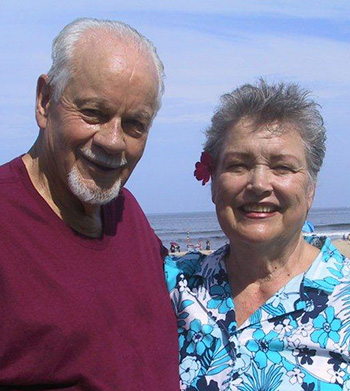 January 2017
Dear Friends:
Life is certainly filled with surprises, isn't it? As I wrote in September we were anticipating a busy, exciting fall season of meetings, and a relaxed holiday season without a lot of the hassle that usually accompanies the special days...I remember thinking, "We will have Thanksgiving and Christmas with new friends here in the Village and really be able to relax and enjoy the time!"
There ARE one or two drawbacks to our new location...one being the time it takes to get to any airport to fly to meetings. In Chattanooga we were 7 minutes away, and our dear little faithful "Teeny" was our "airport girl," coming and going. Here in Sebring we are nearly two hours from the closest one, and we have always scheduled the earliest flights out. We found a Village resident whom we could pay to transport us to the Orlando airport. On October 31 she picked us up at 6 a.m. for our flight to Pensacola, FL...at 6:15 a.m. she rear-ended a big truck stopped at a busy intersection on FL 27 and FL 98...to make a long story short, the Lord was very merciful to all 3 of us or we would have been killed outright...as it was I was injured the worst, with a crushed right foot and terrible bruising from the seat belt in the front, and Eddie's weight slamming into the back of my seat from the back...I was in a wheelchair for 5 weeks then a walking boot for another 5. My Darling had a badly bruised chest and left knee but thankfully has recovered with time...I am still dealing with pain and swelling in the foot but at least can walk now and was given permission to drive a week ago!
Obviously, our holidays were far different from what we had envisioned...and I am still grappling with what the Lord is trying to teach us through this trial...
The folks here at Maranatha have been marvelous to us during this time...wonderful meals were brought in every day for over 3 1/2 weeks!! Our daughter, Faye, flew down to care for us the first week, then our friend, Carole Hembree, came the second week...what a huge help they were! Then our friends, Wayne and Doris Bowman, came after that to help us...Doris put up our Christmas tree (as she has for the past 15 years!!). The Lord has been SOO good to us through it all!
We rejoice that I am able to teach four of our weekly Ladies' Bible Studies this month and next, and we have two "Senior" programs in local churches here in Sebring next month...then we begin spring meetings with a March meeting in Michigan...so looking forward to being "on the road again!" (barring more surprises!☺)
Our daughter, Stacey, is coming down to help celebrate my birthday in February, and we are really excited about that visit!!
Hope our next news is a little "brighter"...just wanted to let you know what has been going on in the "life of the Oglesbys!!" Blessings to you and trust that you and yours will have a glorious springtime!!
See you somewhere along the trail!!
Much love!!
Ed and Mina
How to Schedule Mina at your Church or Event 1.

Check the

Itinerary 2.

Contact Us:

Email Mina

Please let us know the dates and the venue.

We look forward to hearing from you.

F.A.R. Retreat

The FAR Retreat is held at the beautiful Cedine Conference Center right on Watts Bar Lake in Spring City, TN. Imagine sitting in one of the many rockers on the covered porch that look out over the lake. On Friday evening, there is a share-sing-praise-prayer time around the campfire led by Tracy Coats.

Read more